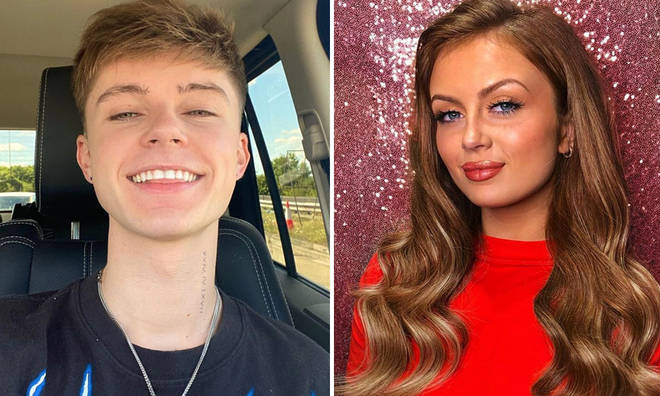 HRVY age 21, the star of Strictly Come Dancing, has put back the rumors of his dating with Maisie Smith by signing up on a celebrity dating application, "Raya".
Maisie Smith Age 19, has also not given any reply as HRVY who's real name is Harvel Cantwell took a step to attract women with a high profile who are loving his success on a dance show of the BBC particular app.
An Insider told the publication: "HRVY is young and free to do what he wants without any ties."
Who are the stars in Strictly this year
They continued: "He's very handsome and feels like he can have his pick – which is why he's on such an exclusive dating app."
Maisie Smith and HRVY
Also, the 19-year-old Maisie Smith has revealed that they are "just pals" and no relationship status between them.
Maisie explained: "I was expecting these romance rumours from day one. I'm 19, he's 21, we're both single, so I feel like it was inevitable – but we're just good pals at the moment."
"When I commented on his Instagram – I literally said he looked like spaghetti – everyone went mad calling me a flirt!"
Maisie, who has also accidentally insulted the reality star, Khole Kardashian, after her fans Praised her "beautiful body", have added: "I'm enjoying getting to know him, we definitely have a connection, but we're just friends."
Also Read ;
Lorraine from ITV asked while speaking to HRVY about Maisie and his romance.
Lorraine asked: "Now, look young man, what's going on? You're in the papers saying you're going out with Maisie, is that true? You two have been spotted."
"You know what it's like, everyone's desperate for people to have relationships. What's going on?" She asked.
HRVY Personal hitmaker replied clearly: "No, no. Do you know what, Lorraine, I'd tell you if anything was going on, trust me I would."
"No, we are just friends. Obviously because of the whole pandemic and COVID rules, nobody can really be with anyone in any distance of each other anyway, you've got to be two metres [apart], so we're just friends."
"We're just dancers, but she is a very lovely girl, very talented, very beautiful, but for now we're just going to focus on the old dancing," he said.
Also Read ;